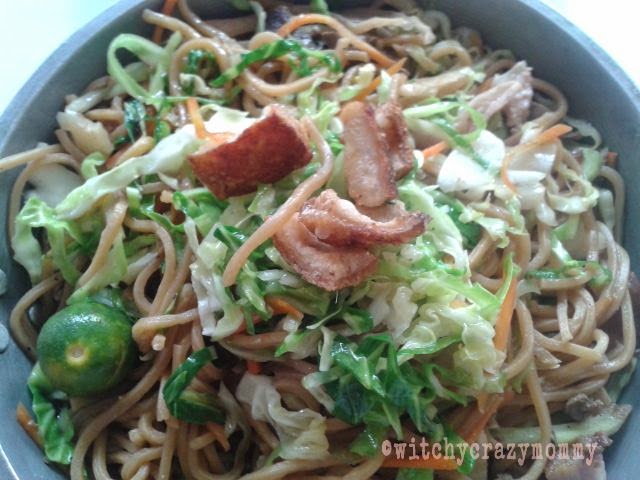 What's Cooking: That's It Pancit Canton
Being Pinoy, I really have a penchant for the classic pancit canton. It's my go-to recipe whenever I run out of ideas to cook or if I have a midnight hankering for something I can't put a finger on. What's great with pancit canton is that you can make it with almost anything. You can make it quite special with a bazilion ingredients or really simple with just a couple of things you have in your fridge.
Here's a quick and easy pancit canton recipe that came to me out of necessity. . . at 1 A.M. in the morning . I needed a quick fix and just used what I had on hand. This one is literally That's It Pancit!
WhatYahNeed:
2 tablespoons oil
1 small onion sliced
2 cloves of garlic crushed
1 tablespoon light soy sauce
1 tablespoon oyster sauce
1/2 cup water or more if too dry
1/2 teaspoon white sugar
dash of pepper
a couple of frozen kikiam (Filipino fish sticks)
half a small carrot shredded
a quarter of a small cabbage shredded
1 250gram pack of cooked canton noodles
a dash of sesame oil, just because I saw it next to the soy sauce 😉
WhatYahGottaDo:
1. Wash your noodles in hot water then drain and leave it alone. Meanwhile, heat the oil in a shallow pan over medium heat. If you have a giant strainer to drain the noodles in and a wok to cook in, feel good about yourself, you're kitchen is better equipped than mine 😉
2. When the oil is hot enough but not smoking, saute the onions first then add the garlic after a minute or two. Letting the onions sweat it's juices prevents your garlic from burning. Burnt garlic just won't do, like EVER. When you start smelling the garlic pour in the soy sauce, oyster sauce, water, pepper and sugar. Let it simmer.
3. Throw in your fish sticks or fish balls or squid balls or left over roasted chicken or pork, well you get the point, you can add whatever left ever meat you have as long as it's still good to eat. Throw in your noodles and shredded veggies, wait for a couple of minutes, when the cabbage starts to wilt, you're good to go!
Put it in a bowl and nomnomnom!
*Bonus: I found some chicharon (pork rind) and lime, threw those in and it made a whole world of difference.