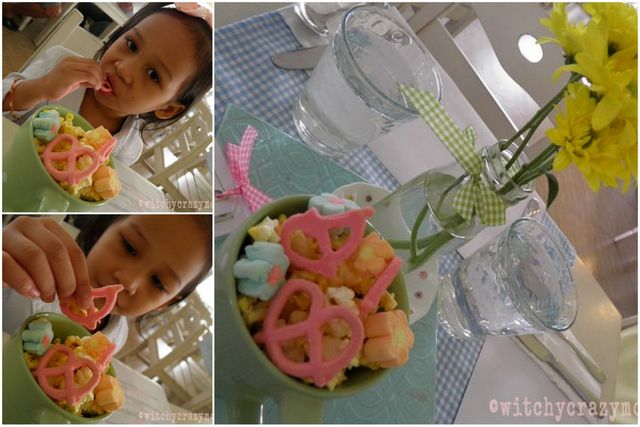 Q.C. Brunch Pick #1: Stacy's at Capitol Greenstreet
I'm currently having a resto-crush on Stacy's, it's a heavenly 50's diner themed place tucked sweetly amidst the trees and slopes of Capitol Golf Course, just off U.P Diliman. We planned on having brunch and woke up at around 8:00 a.m, started moving at about 9:00 a.m and went out the door at around uhhhm eleven-ish?!
Since we picked the auspicious day of the ACET, the typhoon and our 150th monthsary, (yup, that's how we roll!) our supposedly 15 minute drive doubled into 30 minutes along Katipunan Ave. We had to weave along the throng of cars of Blue Eagle hopefuls. Still, we can call it brunch since nobody except Sofie had breakfast yet and besides the place served all day breakfast. Yey!
We finally got there a little past noon, Sofie thought the restaurant was closed since the place was pretty much empty. I blame it on the typhoon and the ACET. Stacy's feels very much like walking into a Stepford grandmama's house, its quaint, sweet and makes you feel like wearing a little girl petticoat and sipping tea. Here's what welcomed us as soon as we were seated;
Hubby ordered the Irish Beef 'N Taters (205php), it was basically corned beef chunks cooked in malted beer and sauteed with lots of onions. It was juicy, tender and salted just right, yumyum! It was served with two perfectly poached eggs, golden steak fries and a choice of bread or rice. Of course my manly man chose rice and was shocked to see it heart shaped 😉
The serving looked quite small but really it was more than enough!
Sofie had the classic
Stacy's Spaghetti and Meatballs (185php), it was cooked Italian style rather than Filipino which was probably why the little girl did not enjoy it as much. Or maybe because she finished the merry mix all by herself, along with my potato chips. It was good though and I loved the meatballs, which I had to finish sine the little girl does not eat much meat.
I was torn with all of the breakfast choices and finally settled for a Croque Madame (230php/215php w/o egg), it was a french toast ham and cheese sandwich topped with poached egg, served with potato chips, sour cream and strawberry jam. I had my egg on the side which the staff were very happy to accommodate. The meal was hefty and delicious, the strawberry jam was something they could improve on though. It would have been better if it was more like Good Shepherd and a little less like those little packets often served with hotel breakfast toast. Still, the poached eggs, I tell you if you have a hankering for poached eggs this is the place to go.
The only damper in our little brunch was that they did not have coffee. They have it on the menu but for some reason the coffee machine broke down earlier today. Bummer, huh?
Remember, I said the place was quite empty when we got there? In my experience, it is never a good sign since that means A) the food is not that good B) Service sucks and C) Chances are, the food you'll be eating has already served it's jolly time in the resto freezer. NONE of these things apply to Stacy's, it turns out we were lucky we got there before the lunch crowd. By the time we started with our meal the place was packed and as much as we wanted to linger, we took pity at a couple of grandpa's sitting patiently at the kiddie table.
Over all we loved the food, the ambiance, the service and it's very kid friendly. Surely we would come back again and again and again!
Perks of having a 4-year old, we have a photographer in tow 😉
She loved the place so much she said "Oh, YOU'RE going?" when we called her from the kiddie corner.




Stacy's
Capitol Greenstreet Commercial Center,
1 Capitol Hills Drive, Quezon City
Mobile: +63 927 326-2244 | +63 933 442-7661 | +63 917 847-2229
Facebook: Stacy's Resto
Twitter: @Stacysresto